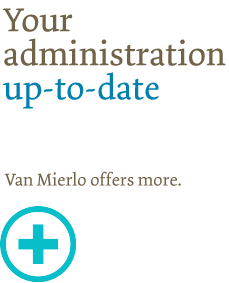 Small- and medium sized businesses
We provide administrative services for SMB's and help entrepreneurs with the setup and optimalisation of their book-keeping and payroll administration, financial and legal advice and the preparation of their annual accounts.
For more than 30 years, we helped entrepreneurs growing their business. We know what stages you face as an entrepreneur, and which administrative, financial and legal challenges you have to face.
These years of knowledge and experience enable us to advise and support in various areas.
We help you with:
(Re) organize and optimize your administration
Drawing up and deposit your annual accounts
Advice and request for credits
Payrolling and draw up employement contracts
Financial- and taxplanning and tax returns
Financial advice and financial second opinions
Guidance and advising on acquisition processes
Would you like to know more about our services, do you need a second opinion or do you have another question? Please feel free to contact one of our specialists.
You can call us during office hours: 075 68 18 360. Would you like us to contact you, please fill out the following contact form.